As e-learning designers, you've likely been asked to create slides where learners need to click all buttons or interact with everything before continuing to the next slide or module.
This happens for many reasons, from client requests to compliance reasons. Whatever the reason, there are certain times when you want to ensure the learner views all of the content before proceeding.
Tabs Interactions: Require Learners Click All Buttons
Now, if you're familiar with tabs interactions, the process is pretty straightforward. You simply add visited states for each tab or button and then add a trigger to make something happen when all tabs are visited. Your learners will need to click all buttons before moving forward. Easy peasy!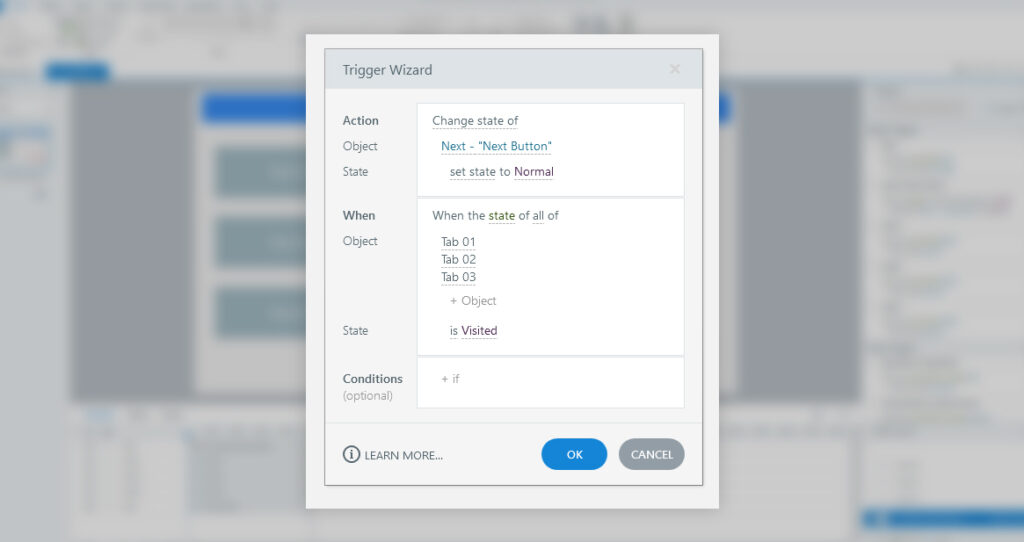 Accordion Interactions
But what if you're working with accordion interactions? Accordion panels expand, collapse, and move all around the slide, making it a bit trickier. However, the good news is that if you know how to do it with tabs, you can do it with accordions too!
Why is This Important?
Some common reasons you'd want to require learners to click all buttons before continuing in the course:
Ensure learners read, watch, or interact with the content
Track completion for compliance or regulatory requirements
Slow down the pacing and nudge learners to reflect on the content
Prevent learners from rushing through the content
Prepare learners for what's coming in the next module
Accordion Interaction Examples
If you're looking for ideas and examples of accordion interactions, check out this weekly e-learning challenge I recently hosted. We already have more than 40 examples of custom accordion interactions designed in Articulate Storyline 360. The e-learning challenge is still open, so feel free to share your accordion interactions and I'll update the recap post to feature your work.
Hope that helps and if you run into any stucks or issues locking down your accordions until learners click all buttons, let me know and I'll try and help you out.