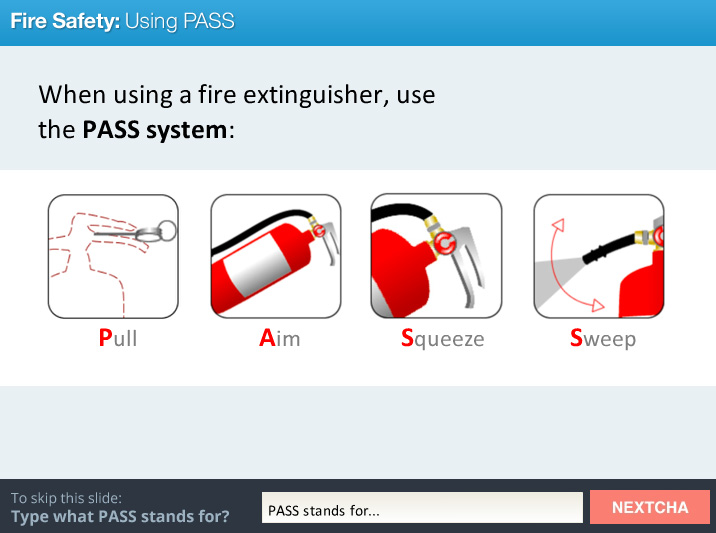 Ask Learners to Prove They're Learning!
If you're like most e-learning designers, you're always keen to explore new ways to deliver engaging and meaningful projects.
The question is: what changes in your course will make the biggest impact on the learner? Scenarios, interactivity, visual design? I say, the time's right to liven up your course's e-learning wallflower: the Next button!
Sad Reality of the Next Button
It's estimated that learners spend thousands of hours a year clicking next buttons. Next buttons represent the worst of passive, click-and-read courses.
Course designers try all sorts of techniques to force learners to pay attention, like locking down courses and disabling the Next button. Well-intentioned, but all they're really doing is giving learners time to update Facebook and text BFFs.
Introducing Your Next Next Button: NEXTCHA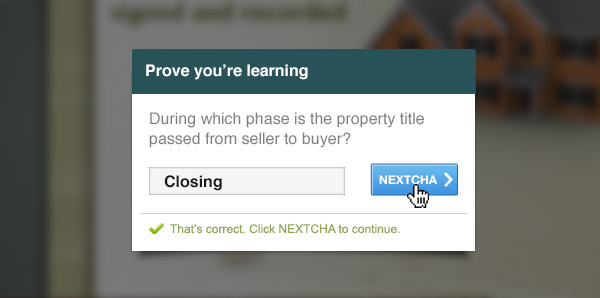 To engage learners with meaningful interactions, you need a cognitive approach that involves learners and guarantees attention on any course topic. It has to reinforce learning while eliminating multitasking and tuning out.
One of the best ways to reinforce content is through repetition. Yes, repetition! And one of the easiest ways to build repetition into your courses is to mimic the CAPTCHA concept from the web marketing playbook: replace your Next button with NEXTCHA.
Repeat After Me…
Wait, what's the CAPTCHA concept? Web sites use CAPTCHAs to prove a user is human. NEXTCHAs are the e-learning equivalent that asks course-takers to prove they're learning. Why prove it? Studies show that learners actively engaged in an activity are ten times more likely to remember it. So NEXTCHA is the learning gatekeeper: you don't learn, you don't proceed.
How does it work?
It works like this: just as CAPTCHAs ask browsers to decipher a droopy, algebra-looking phrase or equation to prove they're human, NEXTCHAs ask learners to summarize a slide's key concepts before continuing their lesson.
Is it really enough to make a difference? Well, consider this: your typical 30-minute course has 30 slides and 30 Next buttons. You can have your learners click 30 mindless Next buttons or practice 30 concepts. Proving one concept per minute of your course? Now we're learning!
Types of NEXTCHA for Learning
Post-Roll
The most popular NEXTCHA is auto-enabled when the slide concludes. Learners are asked to summarize the slide with a word or phrase from the slide. If learners are unable to summarize the slide, they're asked to repeat the slide a second time.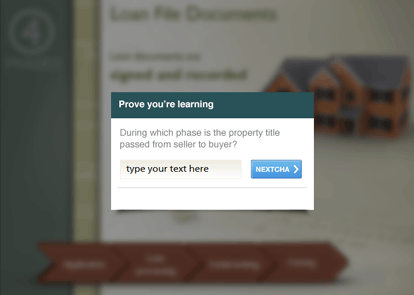 View the NEXTCHA Post-Roll Example
Pre-Roll
The pre-roll NEXTCHA is a variation on the post-roll that gives learners a choice: watch the slide play out in full, or type in a summary statement of that slide's content. It's like a pre-test at the slide level.
It's a progressive model that offers learners the option to view the 1-3 minute slide content, or let them prove—and practice—the key message by typing it into the NEXTCHA field. It's the learner's choice. Either way, it's a win-win for your learning team!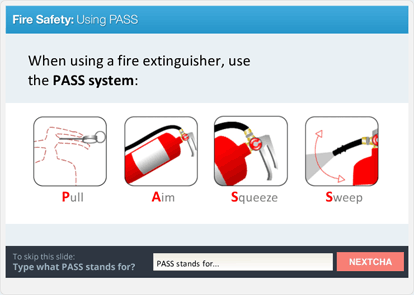 View the NEXTCHA Pre-Roll Example
Feedback Tags
Another clever option requires learners to give course feedback to progress to the next slide. This "survey" approach, popular among data-driven managers, yields revealing insights beyond the smile sheet.
Conclusion
NEXTCHA, in effect, imprints key concepts on your learners through practice and repetition. So don't put your hard-won e-learning content at risk with mindless click-throughs. Protect your online learning investment with a better Next button: NEXTCHA!
 Download the templates
You can download some NEXTCHA templates for Articulate Storyline. We also posted a NEXTCHA elearning challenge in E-Learning Heroes. Check out the challenge for even more ideas for interactive text fields.