Like 'em or hate 'em, bullet points are a big part of  e-learning. And when used appropriately,  they're an effective way to chunk content.
Unfortunately, that's not always the case.  Years of misused bullet points have altered  learners' DNA in such a way they skip right past them.
So what's an e-learning designer to do? One way is by viewing bullets as design elements.
We know visuals are noticed before text.  So let's use this to our advantage by designing bullets as the focal point to hook learners back into the content. After all, it's the content that matters, right?
Here are three ways you can begin creating more visually engaging bullet points in your e-learning courses.
1. Use Your Client's Logo in the Bullet Points
It doesn't matter if your client is Fortune 500 or a two-person consulting firm, everyone likes seeing their courses branded.
Bullet points are an easy way to customize a course. Just swap out the default bullet points with your client's logo or other branding elements.
Keep in mind many logos don't scale well at bullet-sized dimensions. In those cases, it's a good idea to extract the essential design elements from the logo to create a derivative.
For example, let's look at the Starbucks logo. Try scaling the logo down to 22×22 pixels. It doesn't look so hot and we're probably doing more harm than good at this point.

By examining the logo and isolating design elements we can create new designs that still align with the branding.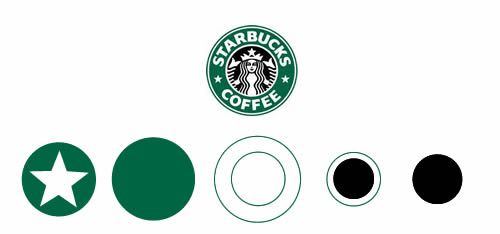 And now we have one possibility for incorporating branding into our bullets:

But what about companies with specific policies against using their logos in such ways? No problem! Look to the content to influence the design elements.
Consider a driver safety course. A chapter might be on road distractions with a sub-topic on bicycle distractions.
Yellow caution sign + bicycle illustration = custom bullet opportunity!
So, a pretty simple design tip that usually goes over big with clients.
2. Create Custom Objective Screens
One thing I see a lot of new designers do is treat all content screens the same. They'll use the same slide template for chapter intros, objectives, activities, scenarios and so on.
If you wanted to make a single design enhancement to your courses, take a look at creating custom objectives screens.
Celebrate your bullets by placing them on a content-inspired slide using a different typeface from the other slides. Handwriting fonts are a great choice for objectives. Why? Objectives are the openers, the icebreakers. They should be friendly, approachable and most of all creative.
Here are a few examples of ways you can mix up your presentation style for course and module objectives.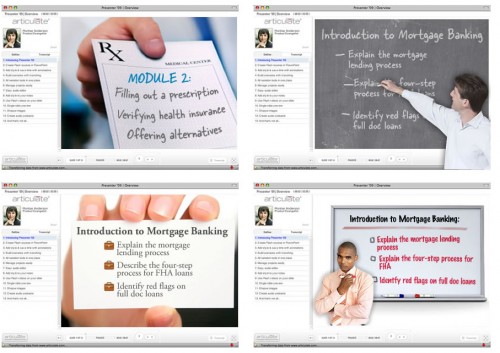 Extra credit: Create your text using uneven paths for even greater authenticity.
3. Animate Bullets with Style!
Flash-based bullets are another way to add more cowbell to your bullets. They're fun to create and I've seen design teams compete for the most creative animated bullets.

Here are a couple examples. Feel free to download the Flash CS3 files to use as you like.
Final Thoughts on Syncing Bullets with Audio Narration
I know there are some active conversations around animation and learning. I follow those conversations and agree e-learning designers should understand the research. But I also feel designers should break the rules once in a while and try new approaches.